PS AUDIO DIRECTSTREAM DAC MKII
D/A converter
Code: 89449633
All our products are covered by Italian warranty.
For the past 8 years, the PerfectWave DirectStream DAC has been recognized throughout the world as a reference standard. We are proud to introduce its successor, the PerfectWave DirectStream DAC MK2.

Since its groundbreaking introduction 8 years ago, the PerfectWave DirectStream has stood alone as one of the most remarkable DACs ever built. We are excited to share with the world the next generation of this technological wonder, the PerfectWave DirectStream DAC MK2. Unlike the vast majority of high-end DACs based on off-the-shelf IC technology, DirectStream MK2 utilizes user-upgradeable software based on handwritten FPGA code. At its core, the MK2 utilizes discrete, galvanically isolated, perfection-based conversion that uncovers all the missing information hiding in your digital audio media. CDs, streaming audio, high-resolution PCM or DSD based media are expertly upsampled in the DirectStream MK2 to twenty times DSD rate and output as pure analog directly into your amplifier or preamplifier. There has never been a better sounding DAC at anywhere close to the price of DirectStream MK2. The ground breaking DirectStream DAC was the first choice of thousands of critical listeners worldwide, and now with the introduction of the MK2, that legacy will continue.

Design
DirectStream MK2 converts every one of its galvanically isolated input signals, both PCM and DSD, to a high sample rate 50 bit version which is further converted to pure DSD for its final conversion to pure analog. Use of twin FPGAs rather than an off-the-shelf DAC chip provides immense processing power, resulting in a complete lack of digital glare, and allows the owner to download our free operating system updates as they are released. With every free upgrade to the operating system, new levels of resolution and audio magic will enrich and make new this remarkable D to A converter.

Application
DirectStream MK2 is the heart of a highly resolving true reference quality digital audio-based system. It handles all PCM sources up to 705.6 kHz, and DSD up to 256. Its zero-loss digital volume control now features 100% galvanically isolated input, outputs, and power supplies as well as an all-new attenuator architecture for better system level matching with six levels of attenuation that are automatically selected based on the requested volume level allowing DirectStream MK2 to be used as a preamplifier, directly feeding a power amp.

The Class A+ Stereophile rated DirectStream DAC just got a whole better in the MK2 version by solving one of the biggest problems in digital audio: noise and jitter from incoming sources. Thanks to a radical new technology the DirectStream MK2 DAC eliminates incoming noise and upsetting jitter by galvanically isolating every input, output, ground, and power source of this remarkable new DAC. Once delivered through these clean and noise free inputs the MK2 converts any digital input format from CDs, servers, computers, and streamers, into a pure DSD format and outputs perfect analog directly to your power amplifier or preamplifier. Whatever the format, sample rate, or the medium, the DirectStream MK2 provides a pure output that fulfills the promise of high-resolution analog performance from digital sources. DirectStream MK2 is the work of PS Audio's digital audio guru, Ted Smith. Unlike conventional DACs that rely upon off-the-shelf DAC chips, the DirectStream MK2 is hand-written onto a pair of FPGAs (Field Programmable Gate Array). This allows far more precise and accurate processing of the digital signal, resulting in significantly better sound quality and upgradeability in the field. Periodically, Ted Smith's continual research into digital audio reproduction nets another breakthrough in performance. DirectStream MK2 DAC owners are given it free in the form of a downloadable upgrade. In this way, DirectStream MK2 owners can be assured that their unit will continue to improve over time. Hear what???s been missing in your music for all these years. If you know the sound of music and instruments and want to hear what???s been missing on your discs, then this DAC is right for you.

Converting the ones and zeros of digital audio into music we cannot distinguish between live or recorded is an art. Most of today???s sophisticated DACs are IC based instruments using off-the-shelf-chips that rely upon Multi-bit Sigma-Delta functions to process the incoming digital audio. While these are relatively simple to design and produce, they rarely give the best sonic results. DirectStream MK2 takes a different approach by first converting all galvanically isolated digital audio signals into a purer form of digital audio known as DSD. DSD is a far more analog-like encoding and decoding process than the classic CD based PCM. In fact, most modern A/D converters used to make recordings are DSD based already. The DirectStream MK2 takes both PCM and DSD, upsamples the data and converts to single-bit DSD and then outputs pure music regardless of input format for the data. The results of this design can be heard in increased musical information presented to the listener at every opportunity. When you listen to the DirectStream MK2 you never are accosted by added bright, hard glare in the music as happens with many active designs. Instead, clean, pure musical magic flows from the DirectStream MK2 directly to your preamplifier or power amplifier

Most modern DACs use some form of active tube or solid state output stage to amplify, filter and drive the DAC's output. The DirectStream MK2 takes a different approach: passive. In one of the simplest, elegant and musically correct executions of an output stage, high-speed class A video amplifiers are used as the final switch feeding a high-performance passive audio output transformer. The upgraded output transformer in the MK2 is specially designed to act as both the final galvanic isolation between the DAC and the outside world as well as the primary low pass filter required to present a perfect, low distortion, low noise output signal that is fed directly into the DirectStream MK2's zero-loss volume control. Designer Smith perfected a 100% bit-perfect volume and balance control that???s built into DirectStream MK2, enabling users to control the output level when feeding directly into a power amplifier or preamplifier. The ability to eliminate the preamplifier in the system without any resolution loss is a major benefit to DirectStream MK2's outstanding musical performance. Imagine going to a recording studio and listening to a master tape of any recording made. This is the experience the DirectStream MK2 provides its owners who enjoy a renewed sense of enjoyment and discovery when listening to everything in their library: CD???s, downloads, DSD.




Potrebbe interessarti anche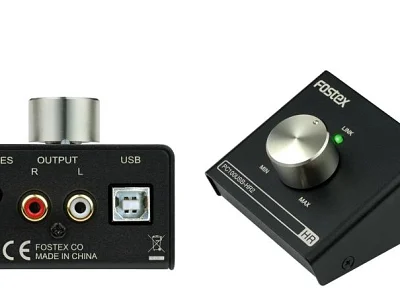 Fostex

FOSTEX PC100USB-HR2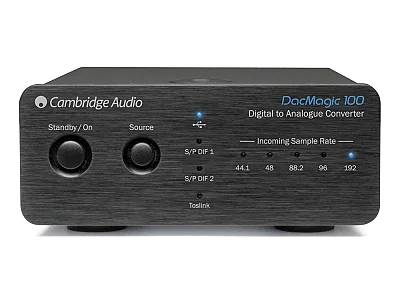 Cambridge Audio

CAMBRIDGE AUDIO DAC MAGIC 100