AUDIO TECHNICA AT-VM95E
Elliptical cartridge
7 review/s
Code: 10557579
All our products are covered by Italian warranty.
The AT-VM95E, the new Audio-Technica entry model Elliptical cartridge will replace the legendary AT95E and take advantage of the developments of the AT95EX introduced in 2015. The AT-VM95E features an improved and distinctive design resulting in a more rigid low resonance housing, and two threaded inserts in the cartridge body enabling it to be mounted to the headshell or on an integral tonearm with just two screws, no nuts.

- Aluminium cantilever
- 4.0mV output voltage
- Compatible body with all VM95 Series stylus assemblies
- Replacement for AT95E and AT95EX
- 20 to 22,000Hz frequency response

Specifications:
Type VM Stereo Dual Magnet
Mounting 1/2" centres
Frequency Response 20 - 22,000 Hz
Channel Separation 20 dB (1 kHz)
Output Channel Balance 2.0 dB (1 kHz)
Output Voltage 4.0 mV (@ 1 kHz, 5 cm/sec)
Vertical Tracking Angle 23�
Vertical Tracking Force Range 1.8 - 2.2g (standard 2.0 g)
Stylus Shape Elliptical
Stylus Size 0.3 x 0.7 mil
Stylus Construction Bonded Round Shank
Cantilever Aluminium Pipe
Coil Impedance 3.3 kΩ (1 kHz)
Coil Inductance 550 mH (1 kHz)
DC Resistance 485 Ω
Static Compliance 17 x 10 - 6 cm / dyne
Dynamic Compliance 7 x 10 - 6 cm / dyne (100 Hz)
Wire Used for Coil T.P. Copper
Recommended Load Impedance 47,000 Ω
Recommended Load Capacitance 100-200 pF
Cartridge Weight 6.1g
Dimensions 17.2 x 18.9 x 28.3 ( H x W x D mm)
Replacement Stylus AT-VMN95E
Accessories Included Two 11 mm installation screws;
Two 8 mm installation screws;
Two washers



Customer reviews
AUDIO TECHNICA AT-VM95E
10-12-2021
facile installazione, il suono Ú diverso dalla testina precedentemente montata, ma molto pulito. Ottimo rapporto qualità /prezzo.
AUDIO TECHNICA AT-VM95E
05-03-2021
Non l\'ho ancora montata.
AUDIO TECHNICA AT-VM95E
08-01-2021
Il prodotto che cercavo al giusto prezzo
AUDIO TECHNICA AT-VM95E
09-11-2020
Ottimo prodotto per il mio giradischi Technics . Il prezzo Ú davvero contenuto per una testina molto versatile . Consigliata .
AUDIO TECHNICA AT-VM95E
25-04-2020
Testina arrivata ed installata sul mio vecchio giradischi vintage AF-887 Philips Ú perfetta funziona a meraviglia, sostituisce alla grande la mia vecchia ADC QLM36 KKIII
AUDIO TECHNICA AT-VM95E
09-04-2020
non la o ancora montata
AUDIO TECHNICA AT-VM95E
22-12-2019
.
Potrebbe interessarti anche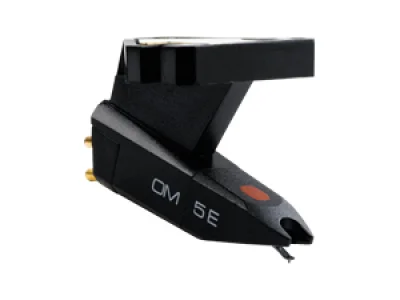 Ortofon

ORTOFON SUPER OM 5E