TEAC TN-280BT
Turntable
4 review/s
Code: 60406374
All our products are covered by Italian warranty.
The TN-280BT is not only a great-sounding turntable for music enthusiastic who want to enjoy vinyl record from closet or re-issues. It brings you a totally new way of listening to vinyl records with its Bluetooth® capability. No extra cost for hi-fi components or complicated wiring is required. Only Bluetooth® speakers or headphones you might have for iPhones are required to enjoy the world of vinyl records.
The TN-280BT also accommodates a built-in Phono EQ amplifier that provides Line output, and allows you to connect to almost any sound system regardless type of inputs.
The belt-drive motor on the TN-280BT reduces vibration for sweeter, more accurate sound than direct-drive turntables for DJ, while an aluminum die-cast platter and anti-skating system provide a solid foundation for great-sounding playback. The high-performance, upgradable MM cartridge captures every detail on your record, and the static-balanced straight tone-arm ensures clear sound. It???s all housed in a handsome case in black or walnut veneer.
For music enthusiasts who want to hear every sensuous note of their vinyl collection.


Features
Belt-drive turntable
Built-in Bluetooth® transmitter
Built-in MM phono equalizing amplifier
PHONO, LINE, and Bluetooth® outputs
High-performance MM cartridge included (Made in Japan)
Aluminum die-cast platter with felt mat
Anti-skating mechanism
2-speed (33-1/3, 45 rpm)
High-density MDF cabinet for better vibration and resonance
Sleek design in black or walnut finish




Customer reviews
TEAC TN-280BT
27-04-2022
Ottimo prodotto, qualità e serietà nel packaging.
TEAC TN-280BT
18-04-2022
Ottima la qualità al tatto e all'udito. Perfetto per iniziare!
TEAC TN-280BT
03-02-2022
Ottimo prodotto!
TEAC TN-280BT
20-12-2021
ottimo
Potrebbe interessarti anche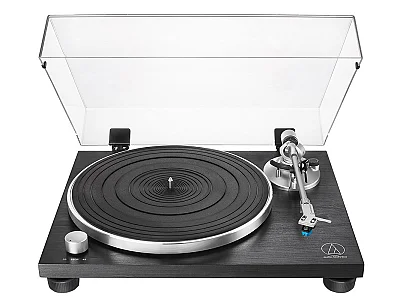 AUDIO TECHNICA

AUDIO TECHNICA AT-LPW30