CHORD QUTEST
D/A converter
11 review/s
Product not available, contact us
Code: 27023014
All our products are covered by Italian warranty.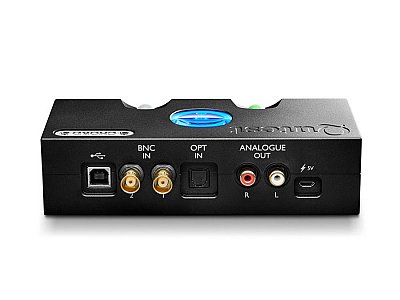 The warranty on new products is of 2 years returning the item to us with all shipping cost at charge of the customer.

Qutest is a standalone DAC whose performance belies its compact dimensions. With DAC architecture based on the award-winning Hugo 2, Qutest offers class-leading digital conversion.
Qutest is our 'pure' DAC (it does not contain headphone amplification or rechargeable batteries like some of its range stablemates) and is designed to improve sound quality in the home. It is the latest evolution of our most affordable standalone DAC, the multi-award-winning 2Qute, which it directly replaces.
Qutest, which is a What Hi-Fiâ"¢ Star of CES 2018, is based on our award-winning proprietary FPGA technology developed for the class-leading Hugo 2 DAC/headphone amp, giving it proven class-leading technical and sonic performance. Perfectly equipped to bring the benefits our digital technology to a wide range of connected devices, it features a galvanically isolated USB-B, optical and coaxial digital input, giving an instant performance upgrade, plus the ability to modernise ageing digital source components.
The Qutest chassis is all-new, too. It has significantly greater mass than its predecessor and has been precision-machined from solid aircraft-grade aluminium billet. The Qutest PCB nestles within a shallow cavity in the solid aluminium chassis, giving the circuit board greater protection within the casework and additional isolation from external vibration compared to previous designs.
Qutest offers Hugo 2's proprietary user-selectable frequency-shaping filters and input selection controls, available via two fascia-mounted spheres, introducing useful flexibility. It also features RCA analogue outputs for connection to integrated amplifiers, preamps and headphone amps, plus high-resolution dual-data digital inputs for connection to future Chord Electronics products.
A further new feature is a user-selectable output voltage available in 1, 2 and 3V RMS outputs for flexible connectivity with a wide range of partnering devices.

Main features:
Product type: Digital to Analogue Converter (designed for fixed system use)
Device power supply: 5v 2amp Micro USB (supplied)
Connectivity (Input): 1x High speed USB (Type B), 2x BNC Coax, 1x Optical
Galvanic Isolation: Yes, on USB Type B input
Connectivity (Output): 1x Stereo RCA
PCM Sample rates: 44.1kHz, 48kHz, 88.2kHz, 96kHz, 176.4kHz, 192kHz, 358kHz, 717.6kHz, and 768kHz
Native DSD support: DSD 64, DSD 128 (2x), DSD 256 (4x), and DSD 512 (8x)
Driver support: Driverless with Mac OS X, Linux, iOS, and Android. Driver required for Windows OS
Dimensions: 41mm (H) x 160mm (W) x 72mm (D)
Weight of unit: 770g




Customer reviews
CHORD QUTEST
Mauro
-
Verified purchase
05-10-2020
ottimo
CHORD QUTEST
Gian francesco
-
Verified purchase
29-10-2019
Inserito in un sistema in cui unisco vintage e conemporaneo (amplificatore integrato Electrocompaniet ECI1 e diffusori Dahlquist DQ10 con sorgente MacBookPro con Audirvana) si ottiene un suono meravigliosamente naturale dalla musica "liquida" !!
CHORD QUTEST
Alessandro
-
Verified purchase
18-10-2019
Piccolo nelle dimensioni, ma un gigante nelle prestazioni. Materiali e costruzione solidissimi, impeccabile. Grande sensazione di qualità costruttiva, bellissimo "l'occhio" trasparente che lascia intravedere la perfetta componentistica interna e si illumina in varie colorazioni a seconda della qualità del file in lettura. I 4 filtri digitali e il settaggio della sensibilità d'uscita consentono di "giocare" col Qutest per adattarlo alle varie esigenze. Veloce e dinamico nella riproduzione, grande capacità di gestire qualsiasi genere musicale. Distinzione degli strumenti e dei piani sonori mai in affanno, neanche con brani particolarmente complessi. Che dire, ottimo prodotto, pienamente soddisfatto.
CHORD QUTEST
Guest
-
Verified purchase
21-09-2019
Molto buono
CHORD QUTEST
Guest
-
Verified purchase
23-03-2019
Ottimo DAC. Rapporto Q/P difficilmente superabile. Migliora con il rodaggio. Provato con diverse sorgenti.
CHORD QUTEST
Sandro
-
Verified purchase
01-03-2019
Il DAC che aspettavo da tempo. Suono sontuoso.
CHORD QUTEST
Emiddio
-
Verified purchase
25-09-2018
Ok
CHORD QUTEST
Stefano
-
Verified purchase
15-06-2018
Sostituito il 2Qute. Rispetto a quest'ultimo: - miglioramento delle voci, di cui si apprezzano meglio le sfumature. - maggiore definizione degli strumenti. - suono più liscio e coeso. - più indulgente con le registrazioni di bassa qualità. - qualche asprezza iniziale, poi risoltasi con un po' di rodaggio (è necessario almeno un centinaio di ore prima che il Dac inizi a mostrare quello di cui è capace). - ancora presente un piccolo difetto del 2Qute: spegnendo l'impianto Hi-Fi, il led colorato relativo al sample rate a volte rimane acceso, potendo risultare fastidioso se la luminosità è impostata al massimo. - il peso del Dac è ora sufficiente per evitare l'antiestetico sollevamento anteriore dovuto al peso dei cavi. - Con il 2Qute avevo sostituito l'alimentatore di serie con un alimentatore lineare Sbooster + cavo Furutech, ottenendo sfondo più nero e più tridimensionalità. Ne ordinerò uno con voltaggio adatto per il Qutest. In definitiva davvero un ottimo Dac, tangibile passo avanti rispetto al suo predecessore. Servizio di Hi-Fi Di Prinzio impeccabile.
CHORD QUTEST
Vincenzo
-
Verified purchase
03-05-2018
Purtroppo in merito non posso esprimere giudizio parchè il prodotto non l'ho ancora provato. Appena lo proverò esprimerlo un giudizio.....
CHORD QUTEST
Domenico
-
Verified purchase
22-04-2018
Il prodotto è arrivato integro nella sua confezione originale. Il Chord Qutest si presenta piccolo ma molto solido e ben curato. Non sono ancora in grado di esprimere un giudizio finale sul suono, perché credo che abbia bisogno di un periodo di "rodaggio" come tutte le elettroniche. Il suono per il momento è già ottimo, ma non così tanto da giustificare una spesa così alta. Questa considerazione la faccio in relazione al mio dac precedente un ifi iOne, che secondo me è un campione qualità/prezzo. Mi riservo quindi un giudizio più approfondito quando lo avrò testato a fondo. 11/05/2018 Ho il Chord Qutest da più di un mese e dopo un Burn-in di circa 200 ore di funzionamento, dopo aver percorso tanti chilometri facendo avanti e indietro tra il divano e la postazione, mettendo a confronto i quattro filtri disponibili, i due ingressi da me utilizzati ottico e coassiale, settando il valore di uscita da 1,2,3 volt. Per la mia configurazione dettata dal resto del mio impianto, è stata: ingresso ottico - uscita 2 volt - filtro Warm HF roll-off (luce rossa). Il poter scegliere tra quattro filtri diversi aiuta molto nell'interfacciare ampli casse e ambiente. Sono differenze minime ma, da valutare attentamente. In altre recensioni ho letto che molti preferiscono il filtro Incisive neutral (luce bianca), che io ho trovato un pò troppo digitale e asettico se così si può dire, ma la scelta come ho detto prima dipende tutto dall'impianto a monte. La mia conclusione è che il Qutest vale quello che costa se cercate il TOP ma, in confronto ad un iFi iOne (che possiedo) che costa cinque volte meno, le differenze non sono poi così tante da giustificare un tale costo. Il discorso secondo il mio modesto parere è che più si sale di prezzo e più le differenze diventano sottigliezze, che non sempre si riesce a percepire se non si dispone di un adeguato impianto. Ed anche nei casi più fortunati niente si può fare contro registrazioni / incisioni fatte male.
CHORD QUTEST
Marco maria
-
Verified purchase
26-03-2018
Imbarazzante la sua superiorità rispetto ad altri DAC di costo pari o anche superiore. Un Best buy!
Related products