VAN DEN HUL D-300 III HYBRID
Interconnect cable
1 review/s
Code: Rdim5NbV
All our products are covered by Italian warranty.

After the success of the original D - 300, there was demand to make some improvements in the original design. So the D - 300 III HYBRID was born.


The main items are:
- The cable is a Hybrid which combines highest quality metal with our Linear Structured Carbon ® (LSC) technology.
- Under the shielding one now finds an additional LSC saturated layer to further close the cable against HF signals and to dramatically improve the signal quality.
- Furthermore, an extra LSC saturated layer is applied around the centre conductor, this again to improve signal quality and resolution.
- Also the internal insulation is more flexible; the material used now is polyethylene-foam with another advantage: reduced capacitance between the signal line and the shielding.
- The expanding gas for the foam is completely inert: Nitrogen.
- Oxidation of the centre-conductor or the braiding is therefore nearly impossible.
- The density of the conductor strands??? very pure silver coating is improved both on the central signal line and the shielding braid.
Furthermore, the flexibility of the external jacket is enlarged by using a new material with a very attractive colour and gold colored printing.
-The material used for this jacket is our HULLIFLEX ®.
- The electrical and sonic properties are remarkable.
- The resistance of the centre-wire is 2.71 Ohm/100 meter and the shielding presents 1.36 Ohm/100 meter.
- The internal capacitance is 95 pF/meter.
- The characteristic impedance is 75 Ohm.
- The external dimensions are nearly equal to the original D - 300: 5.65 mm.
While maintaining perfect audio signal transmission properties, this low priced cable has been especially designed bearing music lovers with a low budget in mind.
The D - 300 III HYBRID???s frequency range is very extended and its low level signal handling is remarkably good.
Customer reviews
VAN DEN HUL D-300 III HYBRID
Alessandro
-
Verified purchase
13-10-2018
Perfetto, anche l'imballo per la spedizione!!!
Potrebbe interessarti anche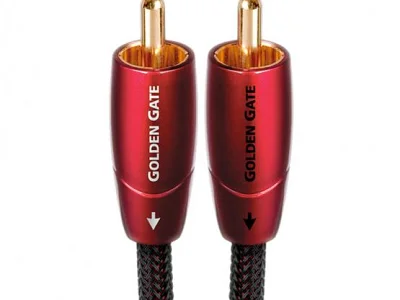 Audioquest

AUDIOQUEST GOLDEN GATE RCA