QUAD 77 + QUAD 99
Preamplifier + tuner + power amplifier Quad
Code: 56719355
All our products are covered by Italian warranty.
Second-hand, in good condition, the power amplifier has some small scratches (see pictures). Without original packages.
Preamplifier + tuner + power amplifier Quad


QUAD 77 - Preamplifier
Slate of the art performance combined with the most advanced remote control system and unique operational flexibility means that the preamplifier is ideally suited to both simple and complex systems.
The Quad 77 preamplifier comes complete with the Quad 77 system console to form the most advanced system on the market.
The combination of standard and Quad link inputs means that the preamplifier can accept an almost unlimited number of programme sources and correctly match them.
There are three line inputs plus an input for pickup cartridges and a tape input and output. All inputs have adjustable sensitivity so that they can accept input signals from just about any conceivable programme source.
The pickup input has three settings for both moving coil and moving magnet pickups. Input sensitivity settings are made using the System Console. Ouadlink allows a maximum of thirty two Quad 77 series products to be connected up, enough for even the most sophisticated home entertainment system.
The preamplifier uses the same solid state switching in virtual earth configuration combined with the digitally addressed analogue volume control as used in the Quad 77 integrated amplifier. This solid state topology has large performance benefits over more conventional switching using mechanical components. The Quad 77 uses the most advanced circuit techniques from input to output to give state of the art performance.
The Quad 77 preamplifier can be used with any Quad amplifier. There is a conventional phono output for connection to the Quad 606, 306 or 405, and Quad AMPBUS for connection to the Quad 77 stereo amplifier, 707 or 77 monoblocks. AMPBUS carries 6 channels of audio which makes connecting up bi Or tri-amped or multi-channel systems straight forward.

Specifications
Frequency response: 10Hz to 20kHz
Total harmonic distortion: 0.003%
Input sensitivity: 3mV (MM), 300mV (line)
Signal to noise ratio: 78dB (MM), 97dB (line)
Output: 0.775V (Pre out), 3.3V (Pre out Max)
Dimensions: 321 x 65 x 300mm
Weight: 4.3kg
Year: 1995

QUAD FM TUNER- Tuner
The Quad 77 FM tuner with RDS is designed to make the most of the potential quality of FM broadcasts and follows the pedigree of earlier Quad FM tuners which have always been regarded as the best tuners available. The 77 tuner uses a Quad designed front end for optimum performance. It is powered by QuadLink. It has two aerial inputs, one for a standard FM antenna and the other for connection to cable or satellite.All the basic tuner functions can be operated from the front panel push buttons while the advanced functions are controlled by the System Console.The tuner has 25 presets which can be loaded manually from either the front panel or the System Console and store frequency, stereo or mono and aerial inputThe pre-sets can also be loaded automatically in which case the tuner scans the frequency band and loads the twenty five strongest signals. Each preset name can be edited to show the station.


Specifications
Type: Mono/Stereo RDS Tuner
Tuning Bands: FM
Tuning Scale: Digital
FM Tuning Range: 88 to 108 MHz
Sensitivity: 1.0uV (FM)
Signal to Noise Ratio: 70dB (FM)
Distortion: 0.15% (FM)
Frequency response: 20Hz to 15kHz (FM)
Output: 775mV
Dimensions: 321 x 80 x 255mm
Weight: 2.8kg
Year: 1995


QUAD 99 - Power amplifier
The Quad 99 Power Amplifier has a maximum power output of 90 W RMS into 8 ohms (0.5% THD) and 120W RMS into 4 ohms (0.5% THD). The amplifier has a maximum output current of 11 Amps per channel. The total harmonic Distortion of this Amplifier is 0.05%, 70 W into 8 ohms.








Potrebbe interessarti anche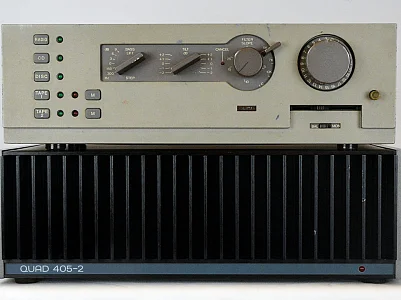 Quad

QUAD 405-2 + QUAD 44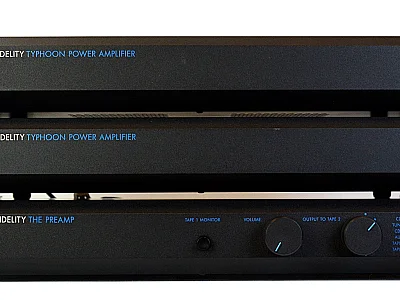 Musical Fidelity

MUSICAL FIDELITY THE PREAMP + MUSICAL FIDELITY THE TYPHOON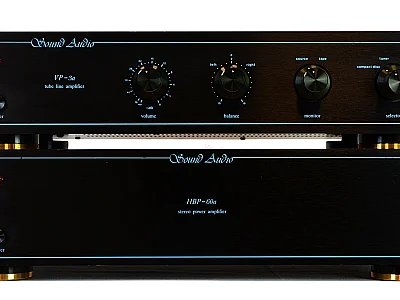 Sound Audio

SOUND AUDIO VP-3A + SOUND AUDIO HBP-60A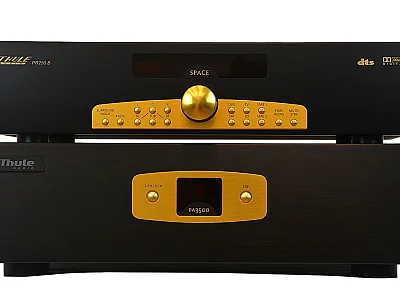 Thule

THULE AUDIO SPACE PR250B + THULE AUDIO SPACE PA350B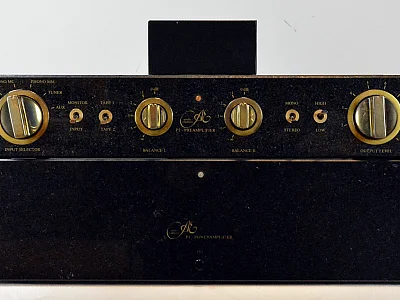 Audio Exklusiv

AUDIO EXKLUSIV P1 + P2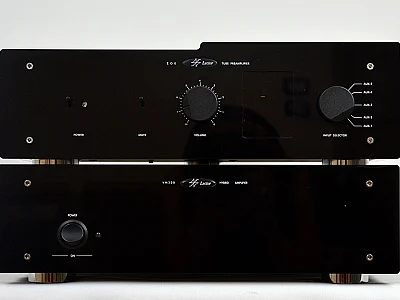 Lector

LECTOR ZOE + LECTOR VM 200